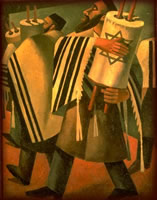 Two Rabbis with the
Scrolls of the Law
Emmanuel Levy (1900-1985)
The Hebrew word Torah means 'instruction', and it is a word which sometimes refers to the first five books of the Bible*, at times to the entire Jewish Bible, and occasionally to the whole of rabbinic literature. Simchat Torah, "rejoicing in the Torah", is an observance marking the completion of the yearly cycle of readings from the books of Genesis, Exodus, Leviticus, Numbers and Deuteronomy.
These five books contain the law or principles that devote Jews consider fundamental to their religion and way of life. And each week in synagogue a portion of the Torah is read, the readings timed so that the last chapter of Deuteronomy is read on Simchat Torah—at which point, the reader proceeds immediately to the first chapter of Genesis, a reminder that the circle of the law is eternal.
Several worshippers are allowed to perform the aliyah, the blessing recited over the reading, and at the completion of this special service the congregation carry the scrolls round the synagogue with high-spirited singing and dancing. As many people as possible are given the chance to carry the scrolls; even children are given the honour of bearing a small paper version.
Work is not permitted on Simchat Torah, and in some synagogues ceremonies are held to mark the beginning of a child's education in the ways of the faith.