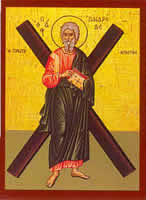 St Andrew
The Bible tells that Andrew, a Galilean fisherman, was the 'first called' of Jesus' disciples and that he also enouraged his brother Simon Peter to become a follower. Tradition relates that after the crucifixion he travelled the countries bordering the Black Sea and preached the Gospel in Scythia—modern Ukraine and Southern Russia—and in Greece. His missionary work is still remembered in that part of the world, and, in addition to Scotland, he is patron saint of Greece, Russia and the Ukraine.
It was in Greece, in the city of Patras, that he suffered martyrdom. Although St Andrew is traditionally associated with the saltire—the diagonal cross—the oldest legends state that he was nailed to an olive tree.
The early Christians felt that it was important that the bones of saints—and other articles that had been closely associated with them—should be preserved. These remains were known as relics, and they were often divided between various churches. There are many different versions of how St Andrew came to be the patron saint of Scotland. One legend tells how an angel appeared to a Greek monk called St Regulus and warned him to remove the bones of St Andrew to "the ends of the earth" for safe-keeping. St Regulus managed to get a tooth, an arm bone, a kneecap and some fingers before setting out on an epic journey, which ended in shipwreck off the coast of Scotland near the site of the town that would come to be known as St Andrews.
A more plausible version of how the bones found their way to Scotland is that Acca, the Bishop of Hexham—a renowned collector of religious relics—actually bought the bones quite legitimately and took them there in 733 CE. During the Reformation, when the Protestant Church came into being and broke away from the Roman Catholic church, the relics disappeared, although a fragment of St Andrew can still be found in a cathedral in Edinburgh.
There are also different versions as to how the saltire came to appear on the Scottish flag. Some say that an early king of Scotland dreamt one night that St Andrew appeared to him and promised him victory in battle. On the day that conflict commenced a white cross appeared in a cloudless blue sky. Another legend says that the king was walking with some friends when St Andrew appeared to him and told him that he would see the white cross when he marched against his enemies. The king then had a banner with a white cross made for his soldiers to carry into battle.
In the Scottish community both at home and abroad, St Andrew's Day is usually celebrated with traditional food, dancing and music—especially bagpipes.