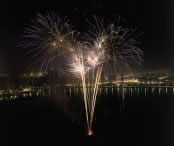 Eid-ul-Fitr
Sharjah, UAE
Eid is an Arabic word meaning a recurring event, and in Islam it denotes the religious festivals. Fitr means "to break" and this particular festival marks the breaking of the fasting period of Ramadan. This Eid is known as the 'small' festival, al-Eid al Saghir, as it lasts only three days compared with the four days of Eid-ul-Adha, the festival of sacrifice.
For a Muslim, Eid-ul-Fitr is a day of thanksgiving. Fasting is forbidden and in the morning, Muslims are encouraged to enjoy a sweet snack such as dates. Other practices include bathing and wearing one's best or new clothes. Thanks to Allah are expressed by distributing alms among the poor and needy and offering special prayers. On this day, gifts are also given to children and loved ones, but it is also a time of forgiveness, and for making amends.
The first Eid was celebrated in 624 CE by the Prophet and his friends and relatives after the victory of the battle of Jang-e-Badar. Therefore it can be said that Muslims are not only celebrating the end of fasting, but also thanking Allah for the help and strength they received throughout the previous month.
The festival begins with the first sighting of the new moon, although Muslims in most countries rely on news of an official sighting. There are special services out of doors and in Mosques, processions through the streets, fireworks and a special celebratory meal—the first daytime meal Muslims will have had in a month.
The traditional greeting at this time is Eid Mubarak, i.e. "a happy and blessed Eid".