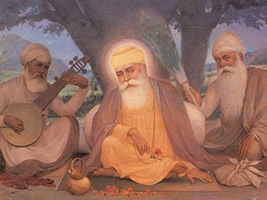 Guru Nanak


Anniversaries associated with the lives of the Sikh Gurus are referred to as gurpurbs. Of these the important ones are the birthdays of Gurus Nanak and Gobind Singh and the martyrdom days of Gurus Arjun Dev and Teg Bahadur.

Guru Nanak, the founder of the Sikh faith, was born to Hindu parents in 1469 CE in a village in a part of the Punjab that is now in Pakistan. At the age of 30 he had a profound religious experience when he disappeared while bathing in the river. Three days later, he re-entered the village, his face shining with light. He said that he had been escorted into the divine presence, given a drink of the nectar of immortality (amrit) and told:
"This is the cup of holy adoration of my Name; drink it. I am with you, and you do I bless and exalt. Go, rejoice in my Name, the Name of God, and preach to others to do the same. Let this be your calling."
After this revelation Nanak gave up his job; dispersing his belongings amongst the poor, he travelled around teaching meditation, the unity of Islam and Hinduism, freedom from ascetic practices, and the inclusion of all people regardless of gender or caste.
Observance of the Guru's birthday starts with a three-day akhand path in which the Guru Granth Sahib—the holy book of the Sikhs—is read continuously from beginning to end without a break. The reading concludes on the day of the festival, at which time the book is carried on a flower-strewn float in procession throughout the village. Believers visit gurdwaras where special programmes are arranged and kirtans—religious songs—are sung. There is also a langar or community lunch, open to people of all faiths and all walks of life.