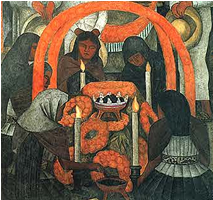 Día de Muertos—La Ofrenda (detail)
Diego Rivera 1923-1924
All Souls' Day is celebrated on 2 November, unless that date falls on a Sunday, in which case it is celebrated on the 3rd. It derives from the ancient Pagan festival of Samhain, a time when it was believed that the souls of the dead would return to visit with the living. Candles in the window were used to guide the souls back home, and places was set for them at the table. Children would come through the village, asking for food to be offered to the dead, which would then be donated to the needy—and we can see in this a seed of later Halloween traditions, although in this case any treats collected are consumed rather than passed to the poor.
Roman Catholics believe that while the Feast of All Saints is a day to remember those who glory in heaven, All Souls is intended to remind believers of the necessity to offer prayers on behalf of those who are in purgatory, the state in the afterlife where souls are purified before proceeding to heaven.
The traditions of the feast of All Souls began independently of the feast of All Saints. It owes its beginning to seventh century monks who decided to offer the mass on the day after Pentecost for their deceased community members. In the late tenth century CE, the Benedictine monastery in Cluny chose to move the mass for their dead to November 2, the day after the feast of all Saints. This custom spread and in the thirteenth century, Rome put the feast on the calendar of the entire Church.
In Mexico, All Hallows' Eve, All Saints' Day and All Souls' Day are collectively observed as Los Dias de los Muertos, "the days of the dead". Although a period when families are remembering the deceased, it is also a time of festivities, which include spectacular parades of skeletons and ghouls. Offerings of food, ofrendas, are laid out for the dead on home altars, traditionally decorated with marigolds. A candle is lit for each dead soul, and mementos, photos, and other remembrances of the dead are included.