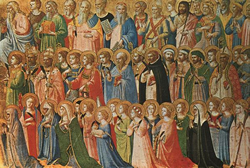 Christ glorified in the court of Heaven
Fra Angelico (15th century)
Previously known as "All Martyrs", All Saints' Day is a festival that honours and remembers all Christian saints, both known and unknown. Roman Catholics, Lutherans and Anglicans celebrate it on 1 November, whereas the Orthodox churches observe it on the first Sunday after Pentecost.
In the early years when Rome persecuted Christians, so many died for their faith the Church set aside special days to honour them. In 607 CE the Roman emperor presented the Pantheon temple to the pope, who removed the statues of Jupiter and other Roman gods and consecrated it to "all saints" who had died from persecution in the first three hundred years after Christ.
The relics of many martyrs were brought from elsewhere and placed in the Pantheon, which was consecrated for Christian usage as a church on 13 May. The festival was observed annually on this day until the time of Pope Gregory III, who, on 1 November, dedicated a chapel in the Basilica of St Peter's to "all the saints"; in 835 CE Pope Gregory IV ordered that the Feast of All Saints be henceforth observed on this day.
Because of their differing understandings of the identity and function of the saints, what churches do on All Saints' Day varies. For Roman Catholics, the Orthodox, and to some extent, Anglicans, it is a day to remember the saints and pray for their assistance. For Lutherans the day is observed by remembering and thanking God for all saints, both dead and living.