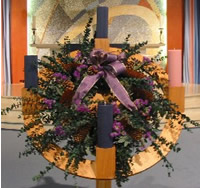 Advent wreath
The Sunday closest to 30 November is known as the first day of Advent, a four-week period during which Christians prepare for the celebration of Christmas. In Latin "advent" means "coming towards", and in this context, it refers to the anticipated coming of the Christ child on Christmas Day. Two traditions particularly associated with this period is the advent wreath and the advent calendar.
The advent wreath is a custom that originated in Eastern Germany. Four candles—three purple or violet ones representing penance, sorrow, and longing, and one rose or pink candle representing the hope and coming joy—are placed in the wreath, one to be lit on each of the Sundays of advent. A final, white candle is lit on Christmas day, signifying the transition from darkness to light.
In many countries, people use special calendars to keep track of the twenty-four days prior to Christmas. Advent calendars were first used in the nineteenth century and originated from the protestant area of Germany. Families made a chalk line for every day in December until the arrival of Christmas Eve, and before long, commercial entrepreneurs began to produce special calendars to cover this period. The first known printed version dates from 1851; nowadays advent calendars tend to have 24 little windows which can be opened to reveal some image or portion of a story, one door for each day starting at the beginning of December and leading up to Christmas.