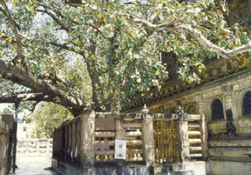 The Bodhi tree
Bodhgaya, northern India
Mahayana* Buddhists observe the three pivotal events of the Buddha's birth, enlightenment and passing on separate occasions, whereas for Theravadin** Buddhists all of these events are celebrated during the festival of Wesak, also known as Vesahka puja or Buddha Day. It is particularly observed in Southeast Asian countries such as Sri Lanka, Burma and Thailand, where temples will be adorned with lanterns to symbolize the enlightenment. In some places there is a ceremonial release of caged birds in remembrance of the Buddha's compassion. Buddhists will visit the local temple for services and teaching, and give offerings to the monks of food, candles and flowers.
For more see Birth of a Pathfinder.