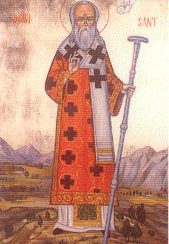 Dewi Sant
Icon by G Papageorgiou
St David—or, in Welsh, Dewi Sant—is the only Welsh saint to be canonized in the Western Church. He has been the patron saint of Wales since the 12th century, although not much is known about his life. He died in 589 or 601 after founding a monastery in the area of Pembrokeshire, and his name appears in an Irish catalogue of saints dated to c 730 CE. His feast day was established as 1 March by 800, and is still observed with fervour by people of Welsh heritage, who will often honour the saint by sporting a national symbol such as the daffodil or a leek. Concerts—particularly by all-male choirs—are common, and many buildings will display the Y Ddraig Goch, the red dragon flag of Wales.
By the 9th century St David had gained the nickname 'Aquaticus' because he and his monks were supposed to have drunk only water. The earliest account of his life, written by a son of the bishop of St David's, appeared in 1090, probably in an attempt to promote the independence of the Welsh church. This account reports that he was responsible for the founding of ten monasteries including Glastonbury, and that the monks in his establishments were vegetarian and followed a regime of manual labour, study and worship.
There are more than fifty churches in Wales dedicated to the the saint, all of which are in the south of the country.