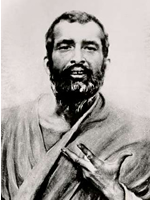 Sri Ramakrishna
Born Gadadhar Chaterjee in 1836 to orthodox Brahmin parents, Sri Ramakrishna grew up in a rural Bengal village. From an early age he experienced an instinctive spirituality whose predominant quality was an almost mystical affinity with nature; later he explored religion more formally, and from the age of 16 began to devote his life to God.
Ramakrishna spent many years meditating, and during this time came to believe that Hinduism was not the only route to God. Delving into the teachings of Islam, Christianity, Sikhism and Buddhism, he eventually concluded that all religions offered different paths leading to the same goal. He spent the latter years of his life teaching what he believed to be the basic truths through simple language and metaphors. One of his disciples recorded his daily talks and these are published in The Gospel of Sri Ramakrishna.
His teachings are still revered in India today and his followers perceive him as a saint. He died in 1886, leaving behind many devoted disciples, one of whom—Swami Vivekananda—founded the Vedanta Society, which brought his ideas to the western world.