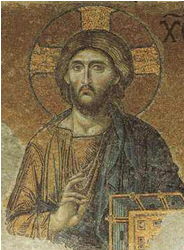 Mosaic of Christ
Hagia Sophia, Istanbul
Unlike the Western tradition, which starts Lent on Ash Wednesday, the Eastern Churches begin the forty day fast on a Monday, known as Clean or Pure Monday. The fast in the Orthodox tradition is known as Great Lent to distinguish it from the Advent fasting period, known as Little Lent.
Great Lent is a period of self-denial and is observed with abstinence from meat, dairy products, wine, and olive oil. Like their Western counterparts, Orthodox Christians also make a more specific sacrifice during this period, such as giving up a favourite food.
More about the origin and observance of Lent.