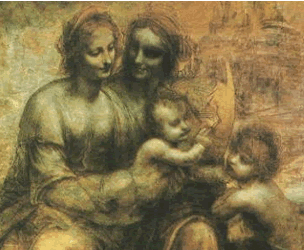 Mary and her mother, St Anne
Detail of a drawing by Leonardo da Vinci
For thousands of years before the advent of religions such as Judaism, Christianity and Islam, human beings conceived of deity in both male and female form. The Mother was only one aspect of the manifestation of the Goddess, and evidence of the ritual celebration of divine motherhood can be found in the spring festivities held in honour of the goddess Rhea in ancient Greece, and in Rome for the goddess Cybele.
As Christianity took hold and spread throughout Europe, festivals previously dedicated to the Goddess were adapted to honour Mary, the mother of Jesus. In time the date for these observances became fixed to the fourth Sunday in Lent. The church as a whole was pictured as Mother, and a tradition was established of visiting the 'mother' church of the parish—alternatively, the church in which one had been baptised—laden with offerings.
The custom of making donations to one's mother church eventually expanded to include the honouring of one's personal mother. Children took on their mother's chores and gave them bouquets of spring flowers which had been blessed in the church and a treat of rich food—traditionally a fruit-laden concoction called a simnel* cake, but now more often then not a special box of chocolates.
The celebration of Mothering Sunday had lapsed in Europe by 1935, but the influence of American servicemen stationed overseas led to its revival following the second world war. In 1907 the second Sunday in May had been established as Mother's Day in the United States; however when the custom was revived in Europe, Britain and Ireland reverted to marking the observance on the fourth Sunday of Lent.