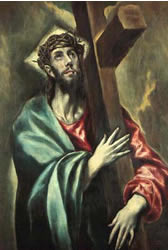 Cristo con la Cruz
El Greco, 1590
Christians throughout the world remember the crucifixion of Jesus on the Friday before Easter, a day traditionally known as Good Friday. Some scholars believe that this is a corruption of "God's Friday", whereas believers hold it as a reflection of the blessing to humanity that came from Jesus' death and resurrection.
In the early years of the church, Good Friday was simply another day of fasting and penance, but during the late fourth century CE it came to be associated with the crucifixion. Many churches now have mourning services from noon until 3:00 pm to commemorate Jesus' last hours. A plank of wood, representing the cross, is displayed in some churches for veneration; in others, worshippers wear black as a symbol of their mourning, and hold a procession with an image of Christ, which is then ceremonially buried.
Some Christians meditate on the stations of the cross, a series of pictures or tableaux representing the events traditionally associated with the crucifixion. The use of these stations—also known as Via Dolorosa or the Way of the Cross—was not common before the end of the seventeenth century. Now, however they are to be found in almost every Roman Catholic church. Although historically varying in number, fourteen are now prescribed:
| | |
| --- | --- |
| • | Christ condemned to death |
| • | The cross is laid upon him |
| • | His first fall |
| • | His meeting with Mary |
| • | Simon of Cyrene is made to carry the cross |
| • | Christ's face is wiped by Veronica |
| • | His second fall |
| • | Meeting the women of Jerusalem; |
| • | His third fall |
| • | He is stripped of his garments |
| • | His crucifixion |
| • | His death on the cross |
| • | His body is taken down from the cross |
| • | He is laid in the tomb. |
The object of this meditation is to help the faithful make a spiritual pilgrimage, and following the stations has now become one of the most popular of Catholic devotions.