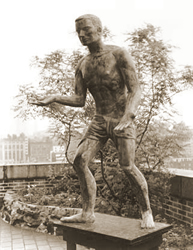 The Humanist
Anita Weschler (1903-2000)
Humanism is an ethical philosophy of life based on a concern for humanity in general and for human individuals in particular. For those who base their interpretation of existence on scientific evidence, it is a view that combines reason with compassion. For thousands of years there have been people who have not believed in a supernatural being or god, yet have nonetheless sought to help their fellow humans and to live good lives. Modern Humanism continues this tradition.
World Humanist Day is celebrated annually on 21 June. It originated in the 1980s, when several state chapters of the American Humanist Association (AHA) began observing it. Different chapters had different ideas as to when that day should be, some preferring the anniversary of the founding of the International Humanist and Ethical Union (IHEU), while others chosing different dates of significance.
In the early 1990s, the AHA—and subsequently the IHEU—passed a resolution to make the summer solstice World Humanist Day. Marking the day is a way to spread information—and combat misinformation—about the positive aspects of Humanism as a philosophical life stance. It is also a good time to celebrate the accomplishments of the many individuals around the world who do not profess a religious affiliation.