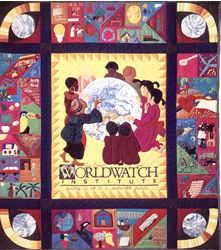 Worldwatch Peace Quilt
World Environment Day was established by the United Nations General Assembly in 1972. Each year it is hosted by a different city and commemorated with an international exposition, the theme of the first—held in 1974—being "Only one earth".
The day can be celebrated in many ways, e.g. street rallies, bicycle parades, green concerts, essay and poster competitions in schools, tree planting, recycling efforts, clean-up campaigns and much more. In many countries, this event is used to enhance political attention and action. for more information about each year's activities, visit the World Environment Day website.