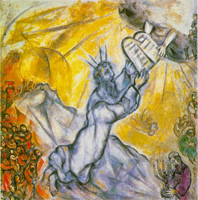 Moses receiving
the tablets of the law
Marc Chagall, 1956-8
The festival of Shavuot ('weeks') is one of three Jewish observances—the other two being Pesach and Sukkot—with roots in the rituals of the agricultural year that have also became associated with historical events. Occuring seven weeks after Pesach, Shavuot occurs at the end of the barley harvest and at the start of the wheat season; commemorating the time when the offerings from the harvest were presented at the Temple, it is also known as Hag ha-Bikkurim, the 'festival of first fruits'.
But perhaps more importantly, Shavuot is the occasion when Jews remember the giving of the Torah to Moses on Mount Sinai, a gift that is at the heart of Jewish culture and belief. The Ten Commandments are read, prayers are offered in thanks, and some spend the first night of the two-day observance studying the Torah. Synagogues are decked with flowers, said to symbolise the flowers of Mount Sinai, and it is customary to have at least one dairy meal in honour of the fact—so some believe—that as the Torah had only just been received, the people did not yet understand fully the rules as regards ritual preparation of food and the separation of milk products and meat.