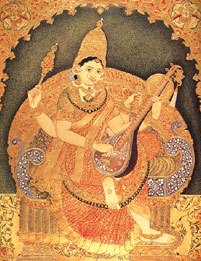 The goddess Saraswati
Vasant Panchami, also known as Saraswati puja, is the festival dedicated to Saraswati, the Hindu goddess of learning. Celebrated on the fifth day of the lunar month of Magh, it usually occurs at the onset of spring during January or February, when the fields are full of blossoming mustard. This colour is picked up in clothing and food—even the statues of the goddess are adorned in garments of saffron.
People pray for wisdom and understanding on this day. Rangolis—traditional designs inscribed on the floor or ground—are often drawn at the foot of the goddess's statue, fish designs considered particularly auspicious. Family members bathe early in the morning and dress in white or yellow clothes, and children bring their school books to be blessed by Saraswati.