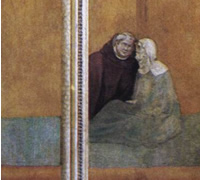 Confession
Detail of a fresco by Giotto
Upper Church of St Francis, Assisi
Shrove Tuesday gets its name from the ritual of shriving, when, in order to receive absolution or forgiveness, a Christian would confess their sins. Shrove Tuesday is the day before Ash Wednesday, the first day of Lent; it is observed as a day of penance, but also a day of celebration, the last chance to feast before the fast of Lent begins.
In earlier times many observant Christians would not eat foods such as meat and fish, butter, eggs, and dairy products during Lent. In order that food wouldn't be wasted, families would have a feast, consuming everything that wouldn't last the forty days, a habit that gave rise to the French name Mardi Gras, "fat Tuesday". Pancakes became associated with Shrove Tuesday as they were a dish that incorporated the eggs, butter and milk that needed to be consumed.