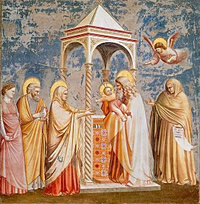 Presentation of Christ
Giotto, 1304-06
Under Mosaic* law, a Jewish woman in Biblical times was required to undergo ritual purification after the birth of a child: forty days after the birth of a boy and eighty days following the birth of a girl. The festival of Candlemas—also known as "The Purification of the Virgin" or "The Presentation of Christ"—is a remembrance of this, and the date of its observance is dependent on the date of Christmas; in other words it is observed on 2 February in the Western churches and 15 February in Orthodox tradition.
In the gospel of Luke, when Jesus is presented at the temple following Mary's purification, a man named Simeon recognizes him as "a light for revelation." This is the justification given for the custom of bringing candles to the church on this day to be blessed by the priest. However the western date of the festival coincides with the Pagan observance of Imbolc, a festival dating back to pre-Christian times which also has a theme of purification and associations to fire and sacred flame.
One of the more curious folk traditions associated with Candlemas is that the weather on this day is predictive: If Candlemas be fair and bright, winter will have another fight. If Candlemas brings cloud and rain, winter won't come again. The behaviour of a variety of animals on this day—badger, cat, and in America, the groundhog—is also said to be predictive of the number of days until spring.