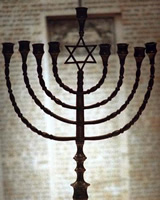 hanukkiah


Hanukkah (or Chanukah) is the Jewish festival of lights. The word means 'dedication' and commemorates the struggle of the Jews for religious freedom.

Historically the festival marks the the victory of the Jewish people—led by the Maccabee brothers—over the Syrians after a three year war in 165 BCE. When the war was over, the Jews decided to repair the temple and have a dedication ceremony. As part of the celebrations a menorah—a candlelabra with seven sconces—was lit. Although there was considered to be only enough oil to keep the menorah lit for a single day, it somehow lasted for a total of eight.

It is in remembrance of this miracle that Hanukkah is celebrated. The central ritual focusses on a special menorah, sometimes known as a hanukkiah, which has eight sconces instead of the usual seven. Each night of the festival, an extra candle is lit: in other words, on the first night, one candle is lit, on the second two, and so on up until the eighth night, when all eight candles are set alight. It is also traditional at this time to eat foods cooked with oil, e.g. donuts or potato cakes.