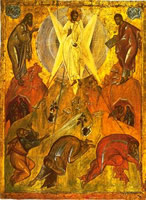 The Transfiguration
Theophanes the Greek
early 15th century
...Jesus...took Peter, John and James with him and went up onto a mountain to pray. As he was praying, the appearance of his face changed, and his clothes became as bright as a flash of lightning. Two men, Moses and Elijah, appeared in glorious splendour, talking with Jesus. ...Peter and his companions were very sleepy, but when they became fully awake, they saw his glory and the two men standing with him.. (Luke 9: 28-32)
The story of Jesus' transfiguration in the presence of three of his disciples is told in the gospels of Luke, Matthew and Mark. In Luke's account he mentions that the three men were 'sleepy' at the time, which could suggest that it might in fact have been a dream. Whatever the nature of the experience, Christians see it as a portent of Jesus' ascension into heaven and the revelation of his divine nature, a vision granted to the disciples because they had become depressed by his own prediction of his coming passion and death.
The figures that appear with Jesus are significant in that Moses symbolised the Law of the Old Testament, and Elijah was a prophet. That these men are seen talking with Jesus perhaps puts him on their level in the minds of his companions, an indication to them of the importance of carrying forward Jesus' teaching.
The Feast of the Transfiguration was originally celebrated only in the Syrian, Byzantine, and Coptic rites, but in the 11th century CE it became widespread in the West. It was introduced into the Roman calendar in 1457. The Armenian bishop Gregory Arsharuni (c 690) ascribed the origin of the feast to St Gregory the Illuminator who died in the 4th century; it is said that Gregory substituted it for a pagan feast of Aphrodite called Vartavarh ('roseflame'), retaining the old name because, he said, Christ opened His glory like a rose on the mountain.