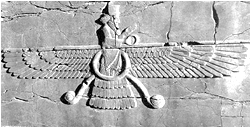 Faravahar
Faravahar means 'to choose'; in Zoroastrian terms this refers to the choice to leave a moral life. The faravahar image is descended from the Egyptian winged disk—a symbol of divine kingship—and in Zoroastrian belief it represents the immortal part of the human soul, also known as fravashi. Zoroastrians believe that when a child is born its fravashi comes down to earth to act as a guardian spirit. The Avesta—the holy book—states that the fravashi has three periods of existence: fravashayo zatanam ('fravashi of the unborn'), fravashayo zavantam ('fravashi of the living') and fravashayo irirathusham ('fravashi of the dead').
Farvardigan is the Zoroastrian feast of all souls. In ancient times, for the ten days before the New Year (No Ruz) consecrated food was set out to feed the spirits, and Zoroastrians still believe in the return and presence of the dead during this time. It is also seen as a period of reflection: an opportunity to examine one's conscience and repent for past wrongs.
In 936 CE, a group of Zoroastrians migrated from the Pars region of Iran to India to escape Muslim persecution. The Parsis, as they are now known, follow the Shenshai religious calendar. During Farvardigan—also known as Mukhtad—believers congregate in the fire temples to say prayers on behalf of the spirits; after the congregational worship, families will offer fruit, flowers, incense, wood, and money in individual rituals conducted by a priest around a small temple fire. The last day of Mukhtad is known as Pateti, a day of repentence prior to the celebration of the New Year.