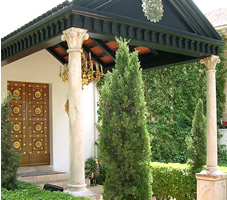 Shrine of Baha'u'llah
nr Acre, Israel
The festival of Ridvan,* observed each year during the twelve days beginning 21 April and ending 2 May, is held in remembrance of the public declaration in 1863 CE of the divine mission of the prophet Baha'u'llah. The most significant of all Baha'i observances, the first, ninth, and 12th days of the observance are kept as holy days during which work is prohibited.
The six million Baha'is worldwide believe that Baha'u'llah's mission is evidence of God's promise to renew spirituality in each generation. Born Mirza Husayn 'Ali to a wealthy Tehran family, the future prophet was one of the followers of Mirza 'Ali Muhammad, a charismatic figure who subsequently proclaimed himself the gateway ('Bab') to the hidden Imam prophesied in Shi'ite Muslim belief. The Bab was subsequently executed and many of his followers imprisoned, including Mirza Husayn 'Ali, who himself was subsequently banished as orthodox Muslim clerics became more and more threatened by the nature of his teachings.
Baha'u'llah believed in the essential unity of religion and the oneness of humankind. He was banished to Baghdad, and it was during his ten year stay in Iraq that his reputation evolved from lowly prisioner to a figure of great respect. Again he was sent into exile, this time to Constantinople, and as he and his family prepared to depart, his desperate followers besieged his house, forcing him to withdraw to a local park. It was during this time—21 April to 2 May 1863—that Baha'u'llah announced that he was the one whose coming had been foretold by the Bab.
After several years in Turkey, he was exiled yet again, to the prison city of Akka.** After being released from prison, he spent the last years of his life in a mansion outside the city.
Ridvan is observed by Baha'is around the world. Common elements of the celebration include feasts, devotional readings, recitations and dramatic presentations of Baha'u'llah's story.
For more, see One World, or view the complete article on sacred history.