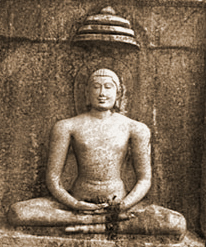 Mahavira
Jainism is a religion that has been revealed over time by a series of individuals known as Jina.* The most important Jain festival of the year is Mahavira Jayanti, held to celebrate the birth of the last Jina of the current age, Vardhamana—more commonly known as Mahavira, ('great hero').
Often erroneously described as its founder, Mahavira is regarded as the person who gave Jainism its present-day form. The exact time and place of his birth is debated, although it is traditionally established as 599 BCE in north-east India. Born to an aristocratic family who followed the principles established by the previous Jina, Parshva, he received a broad education. He married and had a child, but at the age of thirty, shortly after the death of his parents, he left his comfortable existence to become a sadhana, an ascetic who renounces worldly pleasure to become a seeker after truth.
For over twelve years he fasted and meditated, eventually achieving enlightenment. Henceforth he became known as Mahavira, spending the remaining years of his life teaching others. Like his predecessor, he emphasised non-violence (ahimsa), the prohibition of killing that is taken to great extremes by devoted believers.** He considered the most virtuous life to be that spent in fasting and meditation, as then one did not run the risk of injuring another living creature, even accidentally. Before he died his disciples established a community to carry on his teachings.
On Mahavira Jayanti, temples are festooned with flags. In the morning, a statue of the Jina is given a bath; it is then placed in a cradle and carried in a procession. Pageants are perfomed depicting episodes in Mahavira's life and the festivities conclude with prayers and meditation.
*A word meaning 'conqueror' or 'the victorious', i.e. one who has conquered worldly passions by strenuous effort. Jinas are also known as tirthankara, 'one who makes a ford', i.e. shows others the way. Jainism as a religion is based on the principles taught by the various Jinas; followers of this dharma are known as Jaina. Tirthankaras appear in the world to teach humans the way to moksha or liberation; traditionally there are believed to have been 24 Jinas in the present age.
**For ordinary Jains, this means following a strict vegetarian diet. Certain root vegetables are also prohibited, as pulling them from the ground could lead to the death of soil-living creatures. In addition, Jain monks may be observed sweeping a path before them so as to avoid treading on anything, or wearing a cloth over their mouths to ensure that no flying insects are accidentally swallowed.